Located in Germany our production facilities represent the traditional "Made in Germany" quality of exceptional craftsmanship
We offer system wide a wide range of selected materials and finishes which include: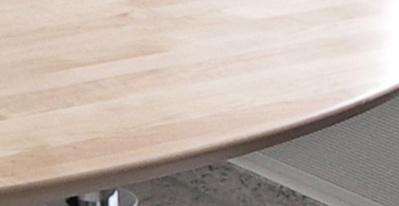 Solid wood panels are glued together from wooden sticks, so-called strips. The quality of a solid wood panels can be very different. Vital Office uses only panels with long strips. We offer low-cost domestic Woods, such as Maple, oak, beech, ash in standard quality. In addition, we offer a particularly high quality of individual production for all Woods, in particular Canadian Maple, Swiss pear and europ. or American walnut. Finish can be chosen:
a) solvent free lacquer
b) oiled (recommended for solid wood, because this way the top can always be repaired, sanded and freshly oiled)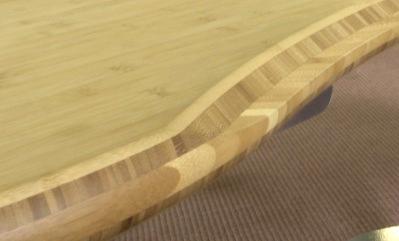 Bamboo, a particular resources and at the same time attractive variant is solid wood panels. Bamboo grows very quickly and is as stable as the German oak. Also the use of land for growing bamboo is extremely low: in comparison only about 1/20 of the area is required for the cultivation of bamboo to a conventional wood construction. On the basis of a larger quantity, we offer bamboo solid wood panels in 25 mm thickness at attractive prices. For the exclusive executive desk or conference table is bamboo solid wood panels in the 40 mm available. There's the bamboo plates in nature bright and subdued over coffee.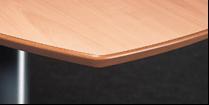 MDF, medium density fibreboard, is a homogeneous material, similar to a thick stack of paper, which is due to its higher density, without necessary in particle board rough middle class, its load-bearing capacity. Advantage is, the edges with an edge band not glued in addition to the enormous strength of screw connections, must be, but profiled and naturally waxed painted can be or. The homogeneity of the plate plays a beneficial role in the disposal, because no time-consuming material separation is necessary. MDF boards are available in direct coating (price group 1 + 2) and can be covered with laminate (price group 3), real wood veneer (price group 4-6), linoleum or lacquer (price group 5).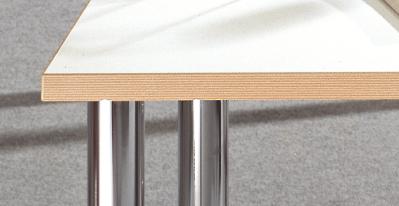 Fine particle board maintain your stability through a middle class with coarse wood shavings. In addition, so that smooth furniture surfaces can be applied, a fine layer of dust is available. (3-layer chipboard). Disadvantage is, that you have glued the edges due to the broad middle class, with of banding E.g. plastic ABS or PVC must be and is thus a little sustainable and little ecological composite panel. Particle boards are available in direct coating (price group 1 + 2) and can be covered with laminate (price group 3) or real wood veneer (price group 4-6).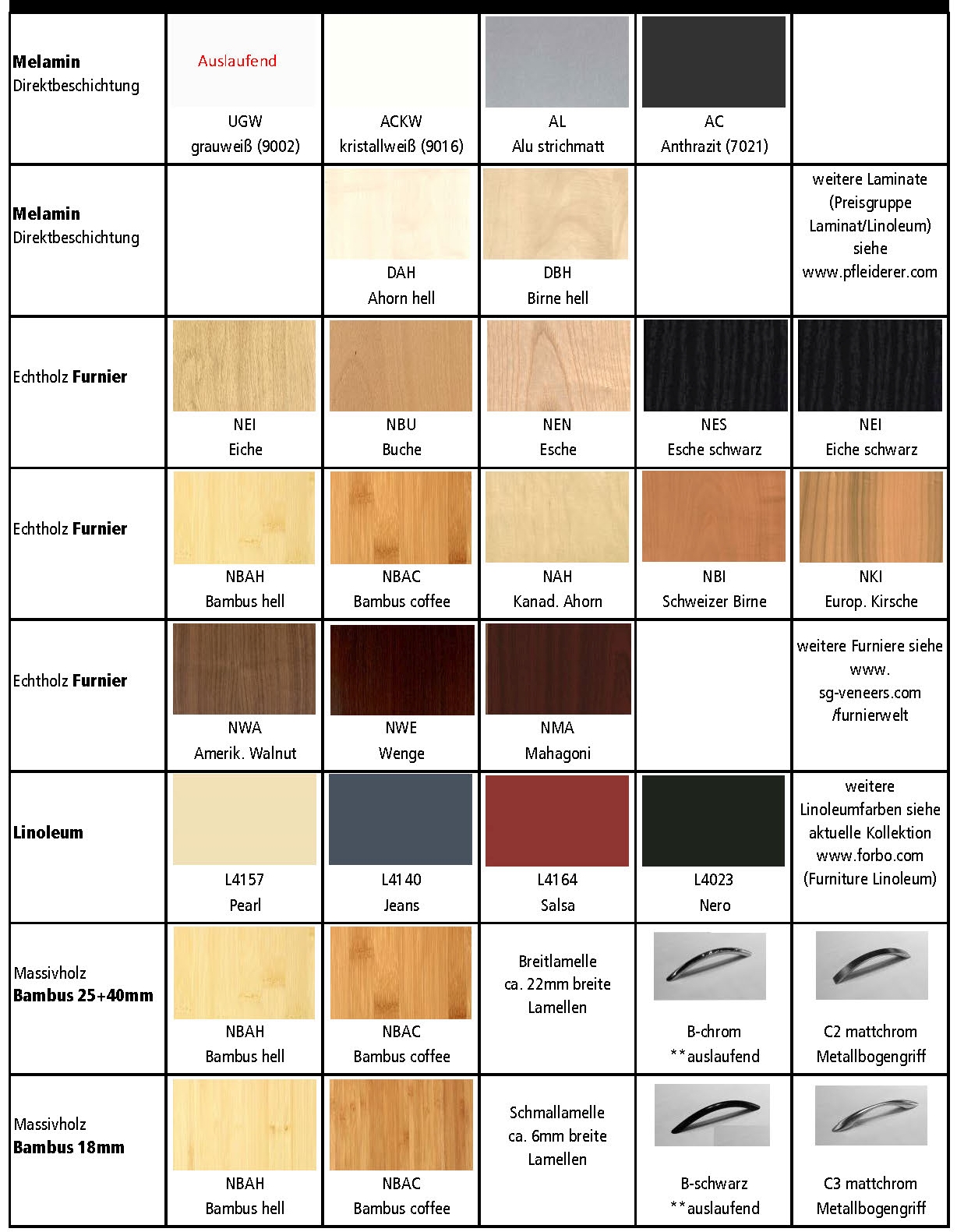 Direct melamine, laminate and lacquer

Direct coating and HPL laminate consists of impregnated with melamine resins and pressed paper. In contrast to plastic laminates consist of the raw material wood and resin, both raw materials that exist in nature. Only a thin layer of paper is used for the direct coating on particle board and MDF board. HPL laminate is strong and pressed under high pressure, so a higher impact and abrasion resistance compared to the direct coating is given, however, about 0.8 mm. This is reflected in the price.

Direct coated chipboard or MDF board (price group 1 + 2) must be planned in larger quantities so we offer many special colors for individual tables in laminate (price group 3). Some manufacturers offer both direct coating and laminated in colour combination. Other manufacturers, such as formica, produce only laminate.

The plates are in any material and any thickness range to dispose. So we store 28mm MDF panels for table tops and 19 mm chipboard for containers and cabinets. Because not always the same colors for countertops and cabinets, we store the price groups for tabletops and cabinets for the part are different. We deliver less required surface decors in laminate and thus price group 3.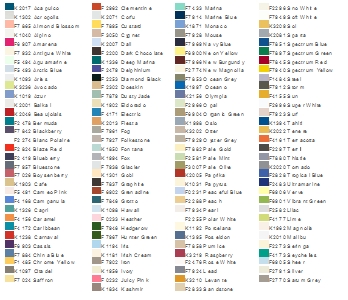 lacquer

The colored coating of MDF (lacquer) is a high-quality alternative to laminates. Here we can individually mix all the colors in our own paint mixing system according to RAL or NCS. Advantages which lacquer is a coating on the high quality.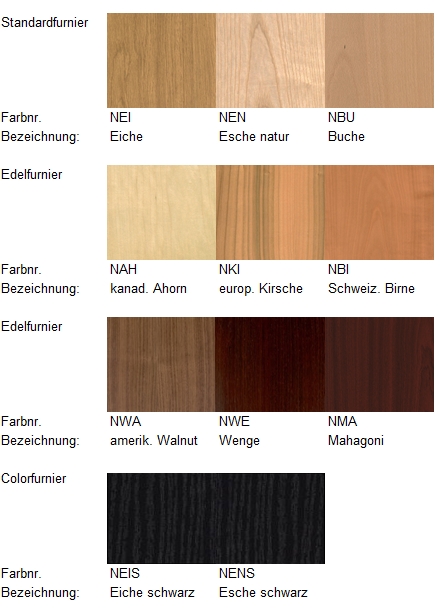 Wood veneer
Real wood veneers is the most decorative, and at the same time, economic way of producing high quality, genuine wood facing materials. We only use real wood veneers and do not offer industrial engineered veneers which offers cheaper price but lack hardness and color stability.
Real wood veneers differ very much in price according to their value. Local veneers like beech, oak and ash can be 10 times less expensive than crown cuts from exclusive logs like Swiss Pear, Canadian Maple, European Cherry and American Walnut or Japanese Sen.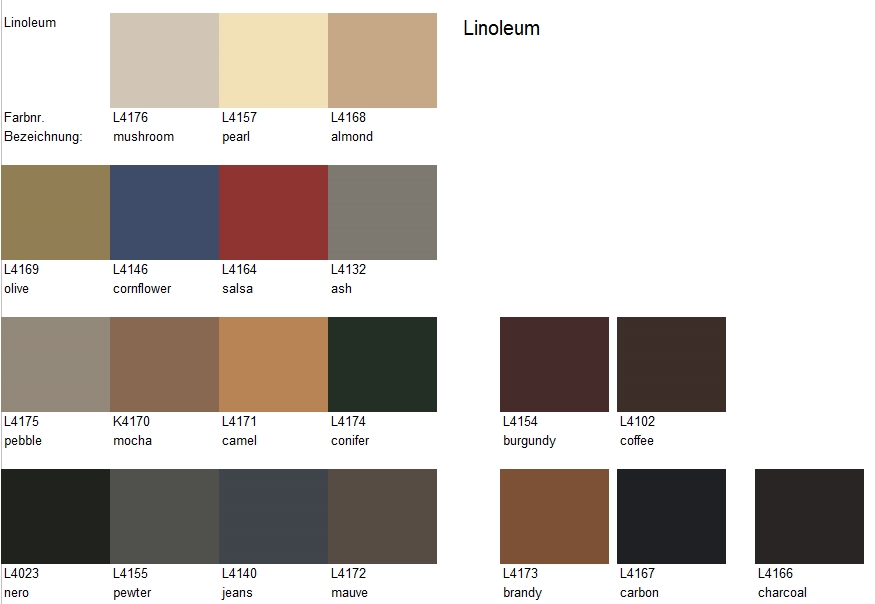 Linoleum
Linoleum Desktop is only available for tops.
More Infos visit http://www.forbo-flooring.com -> Linoleum -> Furniture Linoleum
The Desk Top collection consists of 20 unadorned, elegant colors that add a distinctive touch to any piece of furniture.
The available colors include a new contemporary white and anthracite, several new more outspoken colors, and a number of darker colors that are new to the collection and take their cue from wood tones and leather. In addition, a number of new, fresh and stylish colors have been added to the classic color range, as have several warm colors and natural tones used in classic contemporary furniture. The latter are especially suitable for creating a hospitality feel.
Linoleum is produced from renewable materials: linseed oil, rosins, wood flour, jute and ecologically responsible pigments. The harvesting or extraction of these raw materials consumes relatively little energy.